On the Line
Latinx on the Lines
The WGAW's Latinx Writers Committee themed picket at Universal draws a big turnout.
Monday, May 8, 2023
When they blasted out news of their Monday morning themed picket indicating that "all are welcome," the WGAW's Latinx Writers Committee (LWC) expected a robust turnout. That's precisely what they got as more than 100 members, friends, celebrities and family from other unions packed the Jimmy Stewart Gate at Universal Monday morning.

"We're all Latino, mostly," said LWC Chair Christina Piña said, "And a few people are like, 'I'm not Latino, but I'm here to help.' So we have a lot of allies."

Piña, who is also a strike captain, has been actively involved since joining the WGAW in 2019. She started her career on Charmed and, unlike many of her peers, she was fortunate not to have to repeat levels. Piña has embraced the leadership role both within the LWC and on the picket lines.

"When I saw that this strike was coming, I said, 'I have to do everything I can to help because the only way to succeed is if we all do this together,'" Piña said. "They say, 'Show me what democracy looks like.' This is what democracy looks like: people showing up and doing the work."

LWC Vice Chair Jorge Rivera noted that Latinx writers - and writers from other underrepresented groups - often experience the brunt of many of the hardships that the WGA is looking to address with its next contract.

"Latino writers, BIPOC, the LGBTQ+ community and older writers, we're often the last ones to get hired and the first to get fired," said Rivera. "We wanted to be out and be a show of force for the community and also to support the union in general."

Showrunner Gloria Calderon Kellett (One Day at a Time, With Love) recalled experiencing an easier path moving from being a mid-level writer to a showrunner than what current members face.

"When I started as a mid-level writer, I was able to get my health insurance and pay my bills because of residuals," said Kellett, who walked the picket line in 2007-08 while she was pregnant. "With these rooms shrinking and streamers not paying residuals in the same way that the networks did, it makes it really difficult for your basic working-class writer to sustain a living in Los Angeles. I'm seeing so many talented storytellers from disproportionately disenfranchised communities have to move away because they cannot afford to live here and tell their stories. It makes me very sad."

"So I'm out here for the new people," she added. "It's the mid-level writers who are really suffering. So many wonderfully talented people who are not being given the opportunity to be on set and learn, as I was able to do."

Among the supporters at the Universal Latinx picket was showrunner and WGA Negotiating Committee member Mike Schur whose sign identified him as a NegComm member and invited picketers to ask him anything.

"People want to know what's going on and how long it's going to last, and I say I don't know," said Schur. "But I think everybody I talk to gets what's happening, and that's the important thing. Everybody understands how important this is. That's all you need for good morale, for people to understand why we're doing this."
Train 'Em Early!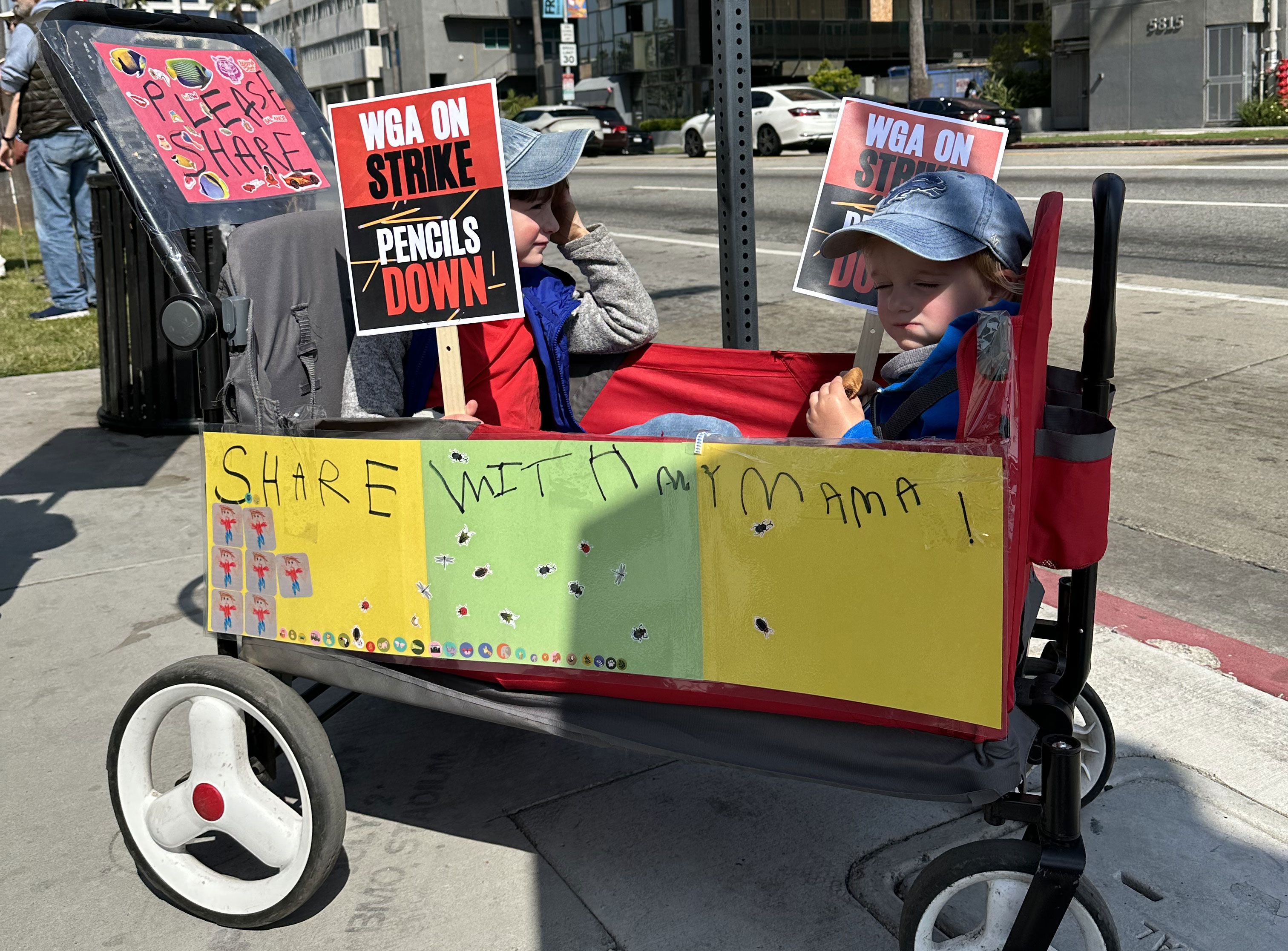 If you've noticed a particularly strong presence of actors on the picket lines since the WGA strike got underway, this should be in no way surprising. Our union family at SAG-AFTRA has come out big time in support of striking writers.
"The profit participation between the studios and writers is grossly inadequate and lopsided," said Joely Fisher, SAG-AFTRA National Secretary-Treasurer. "You can't perform anything until it's on the page so we're standing with this group and locking arms with them and then we'll take it to task. If it ain't on the page, it ain't on the stage."
"This is really a year for union solidarity," added Caitlin Dulany, a SAG LA Board member. "We all have a lot at stake and a lot to get done and we're here to support each other."
Pictured above (L-R) are WGA Negotiating Committee member Kay Cannon, SAG-AFTRA Negotiating Committee member Sarah Ramos, SAG-AFTRA LA Board member Caitlin Dulany, SAG National Secretary-Treasurer Joely Fisher, SAG-AFTRA National Board Member Frances Fisher, WGA Secretary-Treasurer Betsy Thomas and WGA Negotiating Committee/WGAW Board member Travis Donnelly.

Pictured below are SAG-AFTRA National President Fran Drescher and WGAW President Meredith Stiehm.