Member Voices
Solidarity Goes Global
Screenwriters in cities around the world and online show support for striking WGA members.
Thursday, June 15, 2023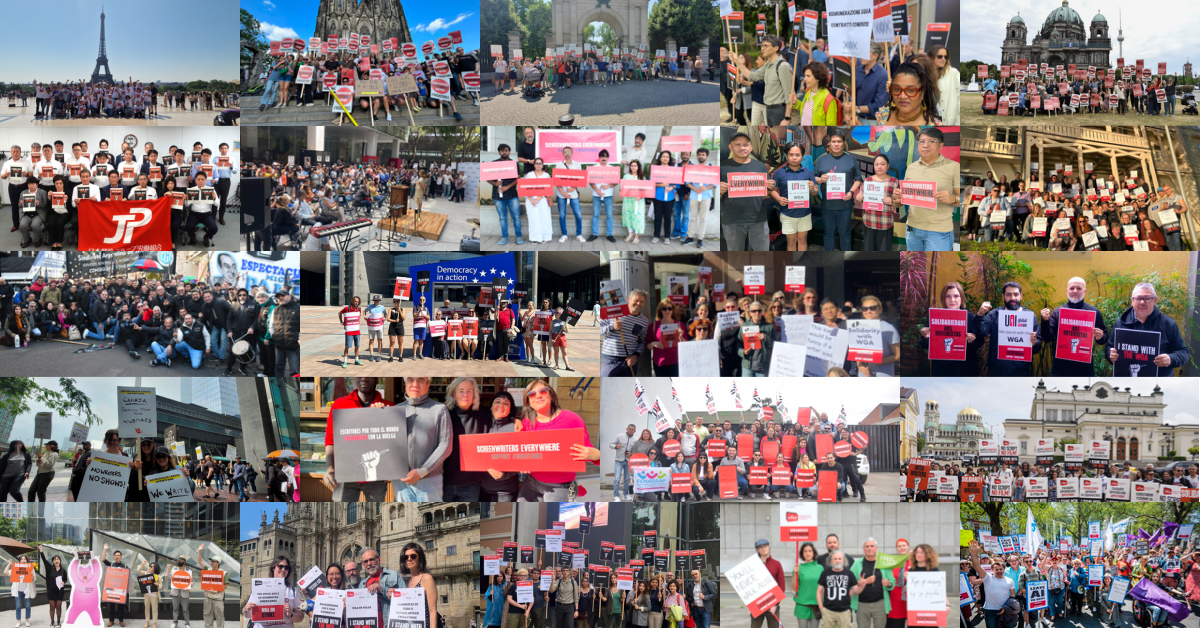 For 45 days, since the WGA began our strike, eyes around the world have watched us. During the WGA's International Day of Solidarity on Wednesday, the world did more than watch.
In a historic display of unity, thousands of writers, workers and supporters across diverse industries from more than 30 countries marched, picketed, and sent messages of solidarity in support of WGA writers' fight for a fair contract and a sustainable future.
In Los Angeles and New York, WGA members rallied at Disney and Netflix Studios, homes to two of the largest global employers. Throughout the day, workers in other nations, from Argentina to Slovenia and everywhere in between, took to the streets to display messages of support, using the hashtag #ScreenwritersEverywhere. See the list of actions worldwide.
---
---
Writers around the world were also joined by actors, directors, musicians, crew, and other workers, with participation ranging from ACTRA, DGC, IATSE in Canada to trade union SUTEP (Sindicato Único de Trabajadores del Espectáculo Público) and Sindicato Argentino de Televisión, Telecomunicaciones, Servicios Audiovisuales, in Argentina, to Equity UK, National Union of Journalists, the Musicians' Union and Broadcasting, Entertainment, Communications and Theatre Union in Great Britain, and many more.
"Our fight is a global fight. Our issues are the same issues faced by fellow creatives all over the world," said Stuart Beattie, a WGAW member and a native of Australia. "What we want is what everyone wants. In Australia, we call it giving us a fair go. Here we call it giving us a fair deal. We will not stop until we get that."
To a certain extent, the worldwide display of solidarity for our fight is not new. The WGAW and WGAE are members of the 37-year-old International Affiliation of Writers Guilds (IAWG). The IAWG and the Federation of Screenwriters in Europe (FSE) have supported the WGA in labor actions for more than 30 years.
Watch video of the global day of action.
"Our sibling guilds and unions have stood with us faithfully during our strikes going back to 1986, pledging not to come and take WGA work," said WGAW Vice President Michele Mulroney during her remarks at the Netflix rally. "They know that solidarity with U.S. writers is the key to raising standards globally, and we are deeply grateful for their support."
"You are part of a mighty group of people across the globe," added WGAW President Meredith Stiehm, speaking to the rally-goers at Disney. "Your international team has a very deep bench, and we are going to win."
The rise of streamers poses challenges for writers' conditions internationally, with writers everywhere contending with being underpaid for the value they create.
"When Danish writers tried to fight the big distributors and streamers like Netflix, the writers, directors, and actors went together and demanded to get paid," said WGAW member Anders Weidemann, a native of Sweden. "Netflix left the country. They said, 'We're no longer doing production.'"
WGAW member Lauren Schmidt Hissrich selected the International Day of Solidarity to reunite the writers of her Netflix series, The Witcher, which films in London.
"So it's really important for us to be here today," she said, "and especially for us to be here at Netflix."

On the picket line at Warner Bros. Studios earlier in the week, Jessica Hutchinson, a writer-actor-producer from Melbourne, Australia, characterized the working conditions in her homeland as "basically the conditions you're trying to fight against here."
Visiting the picket lines while in town for the New Media Film Festival, Hutchinson was disappointed not to be in town for the International Day of Solidarity, but she stood in unity with the WGA both on the International Day of Solidarity and throughout the WGA fight.
"My hope is to one day live and work in the U.S., and I want to see the WGA have a sustainable industry," said Hutchinson, who is a member of the Australian Writers Guild. "I want to see the rights and the things that you're asking for not only implemented here, but all around the world."